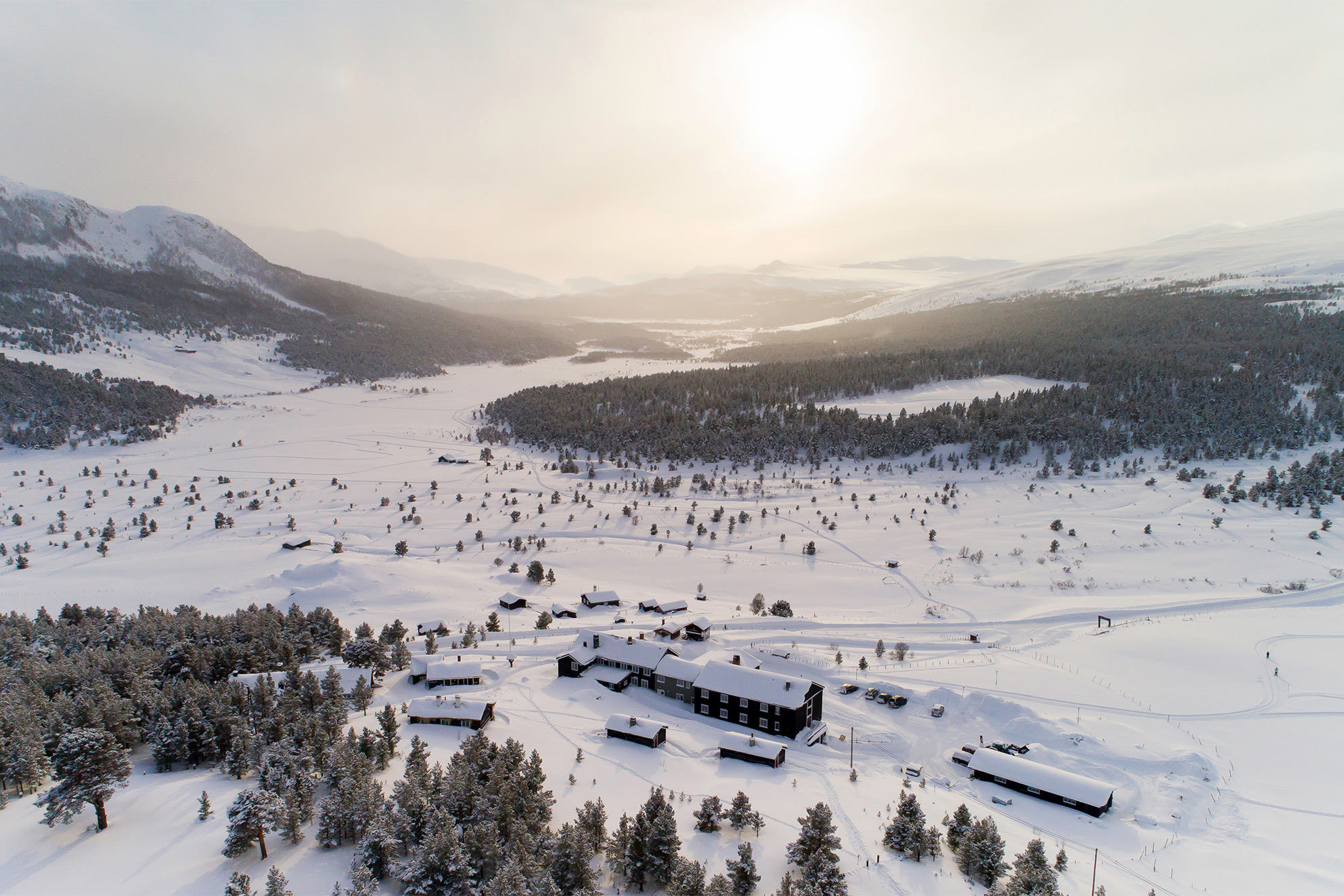 Summer and autumn
Follow marked hiking trails to canyons, waterfalls, lakes, mountain landscape, birch or pine tree forest – from the doorstep – from end of May until autumn.
Read more
Jotunheimens biggest attractions, Besseggen, Glittertind and Galdhøpiggen are all reachable as a day trip from Hindsæter.
Besides the nature reserves with red listed plants and old pine trees we want to recommand our hidden gems with you:
Hindflya
The marked trail follows the river Storhinde. Fantastic canyon, incredible wide landscape on Hindflya. In good conditions try to continue the not marked round via Nilsebekken and Veo. Our nicest gem!
Griningsdalen by bike
On gravel and forest trail to Griningsdalen valley, a beautiful valley with many summer farms. Here you can enjoy the silence and mountain romance, before you return along Griningsdalskampen and around Nedre Sjodalsvatnet lake. Make sure the goats are not following you!
Stuttgongkampen/ Tjønnosdalen
The great variation on the marked trail over the peak is well known, it is the unmarked valley Tjønnosdalen which is the hidden gem. Enjoy and do not tell anyone else…
Knutshøe
Also known as "little Besseggen", but it is actually a tough hike with a bit of scrambling. Beats Besseggen if you ask the hosts. Not really a hidden gem anymore, but its not going to disappoint you. A bit off-season and you will have Knutshø for yourself!
Riddarspranget by bike
Cycle main road down to Riddarspranget. Cross river Sjoa at its wildest spot via bridge on the other side. Enjoy the nice gravel road and the silence following the river upstreams from here. Side trip to hidden gem Salli sæter! When the road ends you have to take a narrow path through the woods, appr. 200 meter of carrying up to Gammel Sæter. Remember to take a picture at the wonderous brigde over Sala creek.
Stuttgongfossen
One of Sjoa River's most beautiful waterfalls, only 300 meters from the hotel. Nice trip both before or after dinner. Ask us for our secret places for a dip in the river or fishing spots!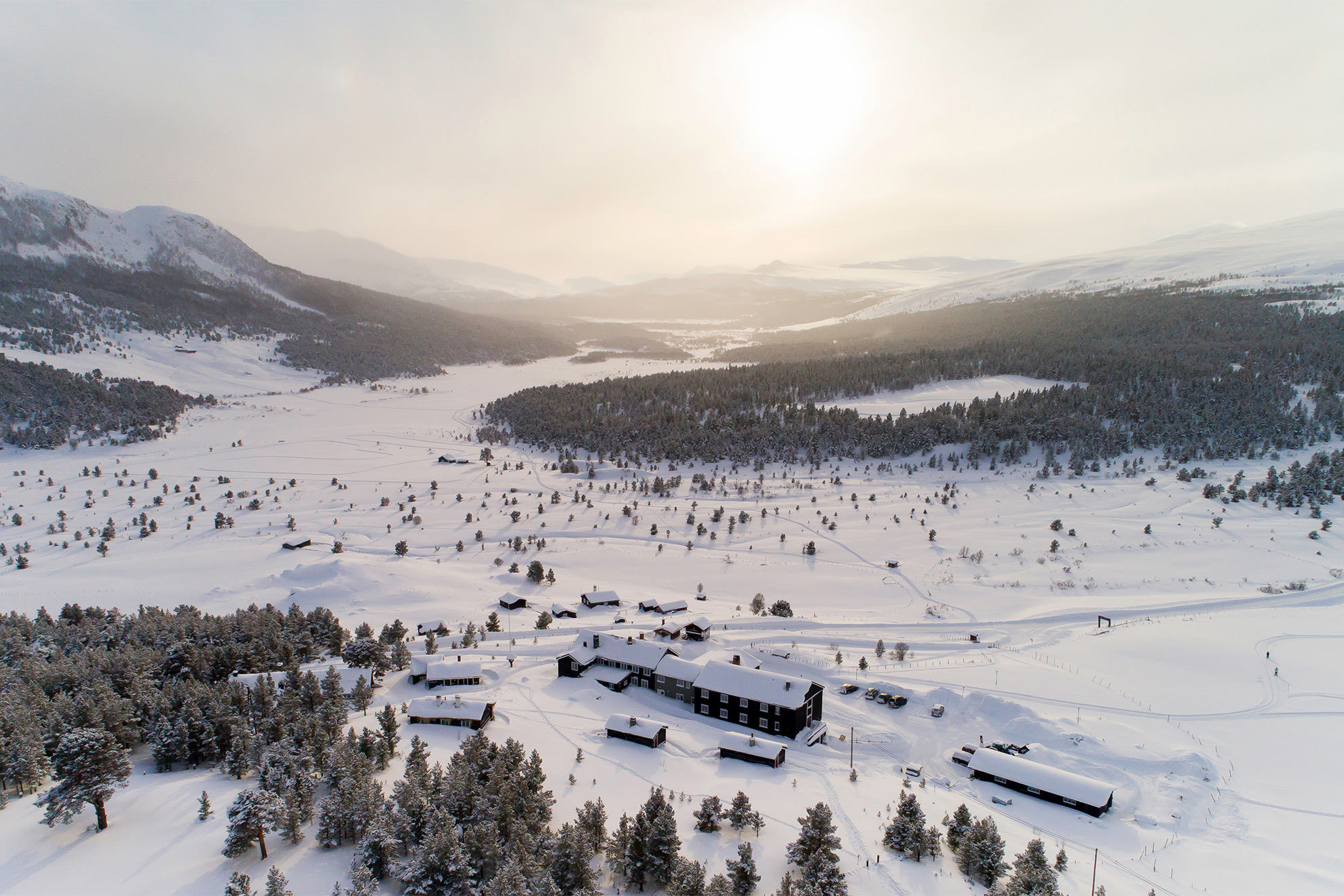 Winter
Downhill, cross country, touring ski. Snowshoeing, dog sledding, Ice canyoning. You decide!
Read more
Just at the doorstep you can start your cross country ski trip. You will find both sheltered tracks through the forest, idyllic tracks along the Sjoa river, and mountain tracks with wonderful views. We also offer designated snowshoe tracks and just 3 km from the hotel you can try dog sledding.
It is possible to climb Stuttgongkampen (1418 masl), Nautgardstinden (2258 masl), Russli Rundhø (1825 masl) or Stornubben (2174 masl) directly from the hotel on skis.
Lemonsjøen Ski Area, 20 min drive from Hindsæter, offers possibilities for downhill skiing.
Book Ice canyoning with us:
A tour in the world of ice by Sjoa river. We follow a route into ice caves, behind frozen waterfalls and along ice formations of all shapes and colors. We move through narrow passages, along big rocks, sometimes in the canyon, then again high above. We go by foot and our guides lead you safely. For everyone with a love for adventure and the beauty of nature.
See picture in our winter package here!
Besseggen
Hike Besseggen early in the season: Between mid June and mid July you can enjoy nature, flowers and the view in silence. Another great time is during autumn, fall colors from end of august!
The picture shows Knutshø ridge, view from Besseggen trail.
Read more
Drive 15 min by car from Hindsæter to Lake Gjende, where you take the boat to Memurubu. From there you will start hiking up a steep trail.
After a while you get to the place called Bandet – a small plateau between Gjende and Bessvatnet. You will walk along the edge of Lake Bessvatnet, while Gjende is 400 meters below on the opposite side. Lake Bessvatnet is crystal clear and blue in color, while Lake Gjende shines in the characteristic emerald-green glacial color, due to glacier water. Now the Besseggen ridge is right in front of you. To pass this part you might have to use your hands as much as your feet, and you should not suffer from vertigo. After enjoying the views on top of the ridge, you will pass Veslfjell (1743 masl, and the highest point on the trip) on your way back to the start at Lake Gjende, where you took the boat in the morning.
The walk takes between 7 and 8 hours. Hikers in average shape describe the tour as challenging.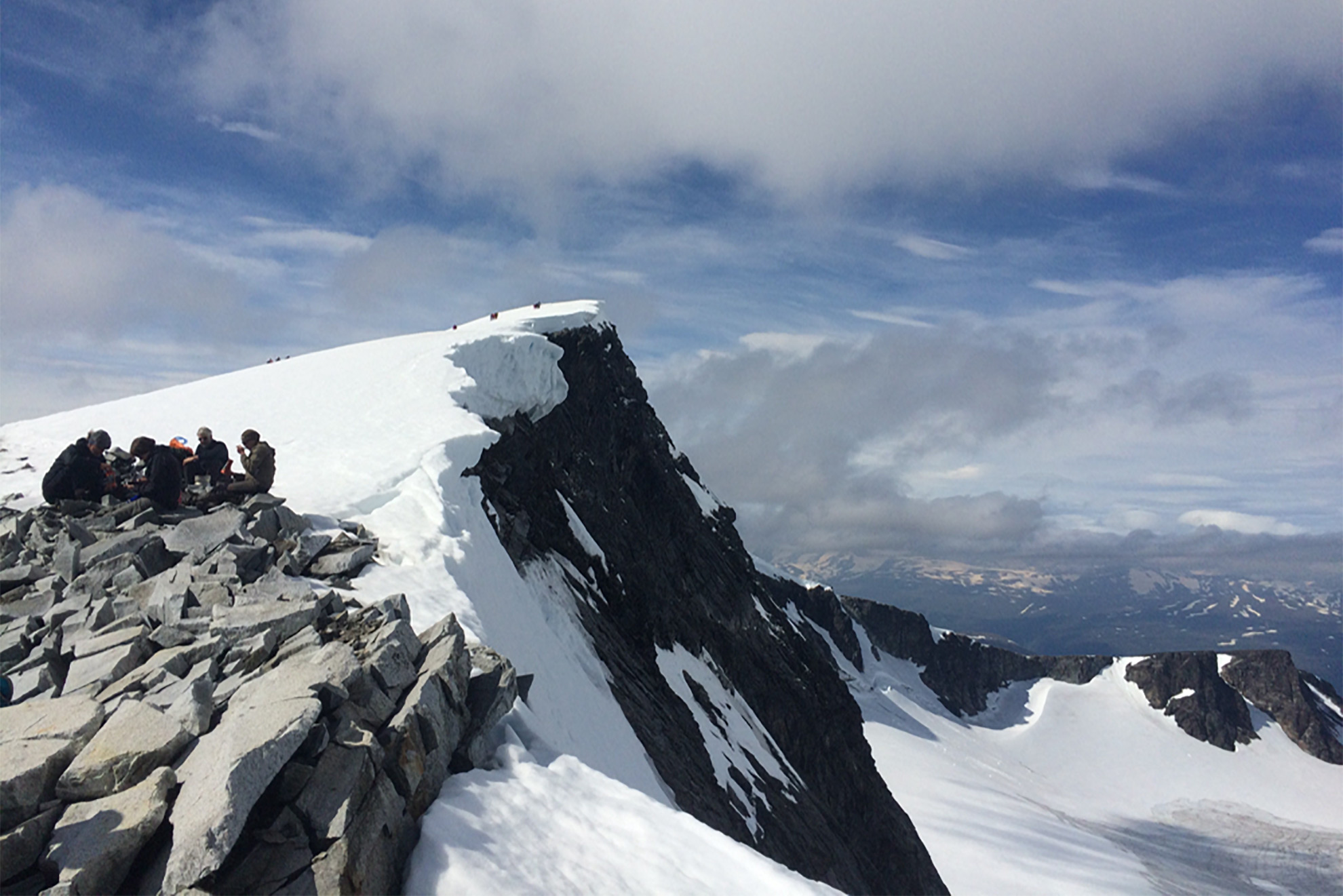 Hike to Glittertind 2460 masl
Glittertind is Norway's second highest mountain, just a few meters short of Galdhøpiggen which sits at 2457 masl.
Read more
You start with driving 15 km to Randsverk, then you turn on to a 30 km long gravel road towards Glitterheim cabin. Watch out for moose and reindeer! Parking is 7 km before the cabin, on the border of Jotunheimen National Park. Here you can rent a bike which makes the last kilometers to the cabin fly by, amazing nature surrounds you.
From Glitterheim you follow a well marked trail northwest towards the top. There you have a spectacular view of the mountains in Jotunheimen, among them Galdhøpiggen.
When you are ready to return you go the same way as you came.
The trip is estimated to take 7-8 hours given that you bike to Glitterheim.